Awards, everyone loves awards! Including me, which is why I've decided to start giving them out.
I'll be scouting around for sites that I think are great, but you can also nominate or apply for an award too. The only requirement is that your site must be related to anything SciFi or Fantasy.
Here are some sample awards: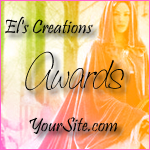 So what are you waiting for? Contact me to apply!

Awards Elvellon's Creations has won: